DEAR FELLOW CLUB MEMBERS:  YOUR SR. MEN'S CLUB BOARD OF DIRECTORS HAS VOTED TO RESUME OUR NORMAL TOURNAMENT PROCEDURES; AWARDING CASH PRIZES TO TOP TOURNAMENT FINISHERS AND CLOSEST-TO-THE-PIN WINNERS.  WE WILL BE FOLLOWING CURRENT HEALTH DEPARTMENT AND DAVID L. BAKER GOLF COURSE, COVID-19 SAFETY GUIDELINES.  PLEASE CALL OR EMAIL TOURNAMENT DIRECTOR, CHRIS BANTOFT, TO RECEIVE A TEE TIME AND GROUP ASSIGNMENT.  EMAIL: BANTOFTCHRIS@GMAIL.COM OR PHONE; (760) 707-8378.   FOR TOURNAMENT DATES AND FORMATS, PLEASE CLICK ON THE TOURNAMENT SCHEDULE BUTTON BELOW.  HOPE TO SEE YOU SOON.
WHO WE ARE
The David L. Baker Senior Men's Golf Club (the Club) was established for senior men, age 60 and over, of all golf skill levels to play and enjoy the game of golf with others of like mind.  Our average member's age is approximately 72.
The Club operates as a private, not for profit organization solely for the recreation and enjoyment of each of its members.  Membership is open to all age eligible men, and does not discriminate based on race, ethnic or religious grounds.  Dues and other funds collected during the year are used to pay for administrative expenses, trophies and to supplement the cost of an end-of-year tournament and luncheon.  Some of the pictures from this event are posted on this website.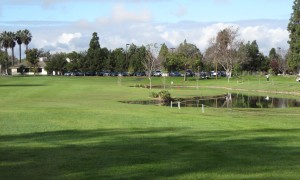 Two tournaments are held monthly at the David L. Baker Memorial Golf Course, a par 62 Executive Course, in Fountain Valley, California.  Several "away" tournaments are also held at selected area courses during the year.
TOURNAMENT SCHEDULE2024 - FULL SCHEDULE v1

The Club operates under and complies with the USGA Rules of Golf and local David L. Baker Golf Course rules and The Club rules established by a majority of the general membership.  A local club handicap system is established using a USGA formula to give each member a course handicap based on individual gross scores attained during Club tournaments.  Members handicaps are updated monthly. Handicap Determination Methodology
Members are divided into four flights based on handicap, and competition for winning scores is within each flight based on the net, or handicap adjusted score, thus all skill levels can enjoy a fun round of golf and also be competitive in winning at their flight level.  Click on this link to view the current month's handicaps. CLUB HANDICAPSFOR DEC 2023 & JAN 2024

On most Mondays, alternating with the Monday Tournaments, and almost all Fridays, club members hold what are called Skins Games.  They cost just $5.00 to enter, separate from the course fee, and the money that is collected goes towards cash prizes for closest-to-the-pin, birdies and par holes, one per side.  Please see this site's Skins Games page for additional information. 
The club membership dues for 2023 is $35.00, plus one time charge of $9.00 for a name badge.  Right click the Membership Application button to print or download the application.  You can also contact Paul Lampley, VP & Membership Chairman, at Paul.Lampley@gmail.com or (714) 623-1804 for additional information.   MEMBERSHIP APPLICATION

2023 Club Leadership:  Paul Lampley, President – Norm Katnik, Vice President – Richard Anthony, Secretary – Bob Murphy, Treasurer – Rick Boese, Asst. Treasurer – Tournament Directors: Chris Bantoft, Greg Angell, Rick Root and Owen Favro – Tom Hollister, Away Tournament Director –  Bob Dowe, Handicap Chairman – Roger Fricke, Webmaster