Almost all Thursdays, and on Mondays alternating with the club tournaments, you can find DLB Sr. Men's Club members playing in "Skins Games" for cash prizes for Closest to the Pin, Par Holes and Low Gross Holes.  The "friendly" competition is organized by Joe Rotcher, 949-525-8498, for our members and are much more informal and relaxed than tournaments, so everyone who chooses to play can have fun and use clubs or attempt shots that wouldn't normally be taken during tournaments.  Sign-in at the Snack Bar between 7:30 & 8:00 AM on Thursdays and alternating with Tournaments on Mondays.  Play on Mondays requires an advance call to Joe Rotcher on the Friday or Saturday prior.

The cost is $5.00 in addition to the Green Fees you pay separately to the course.  First tee time is normally around 8:30 am, and there are usually six or seven foursomes.  Many of the members partake in side games of their own choosing just to keep the competitive spirit high.  All funds collected are paid out in prizes awarded at the next Skins Game in which you play.  All in all, it's loads of fun for those who like to get out and play.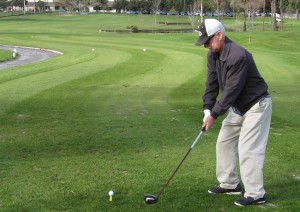 "Lefty" Bill tees off at Skins game.